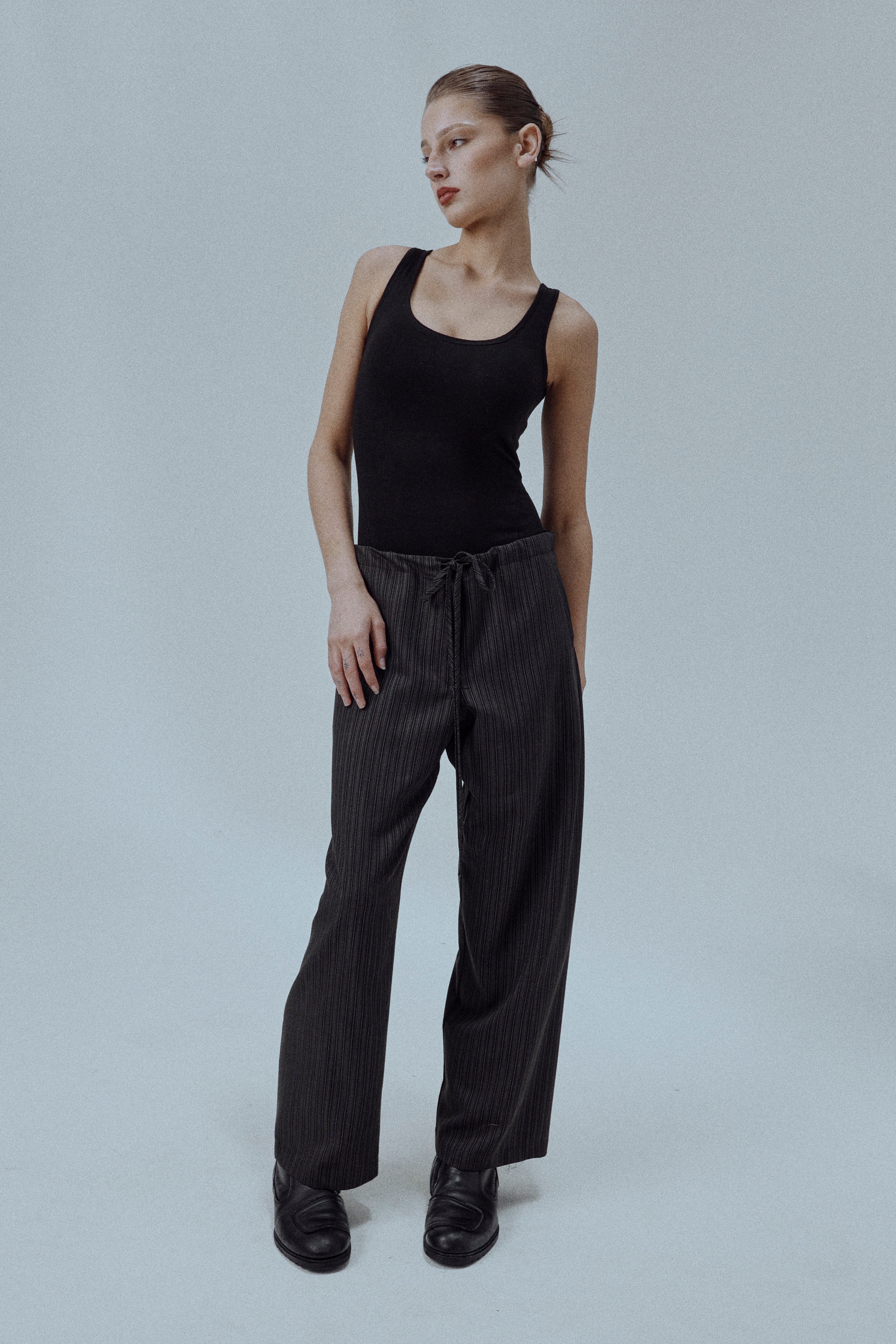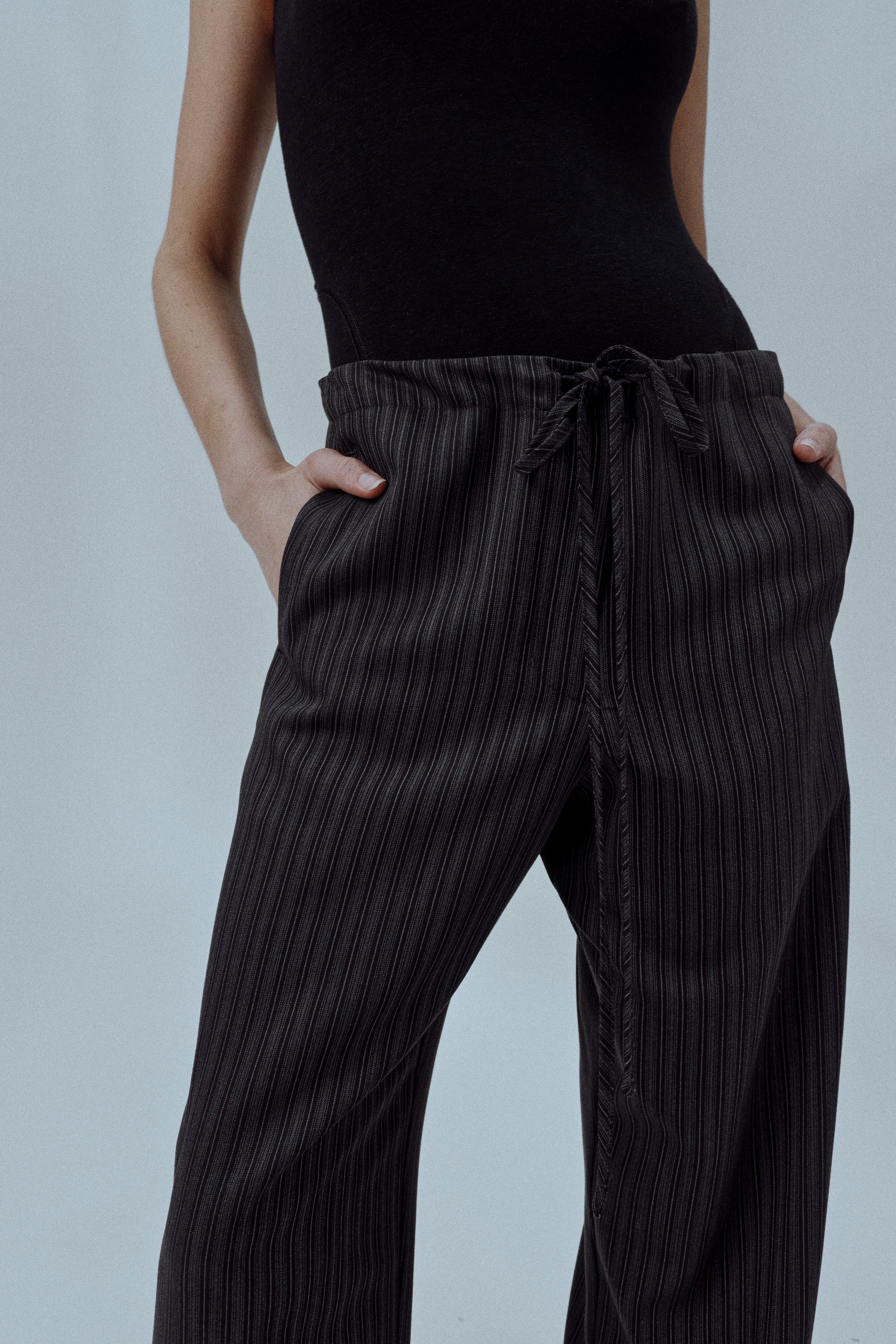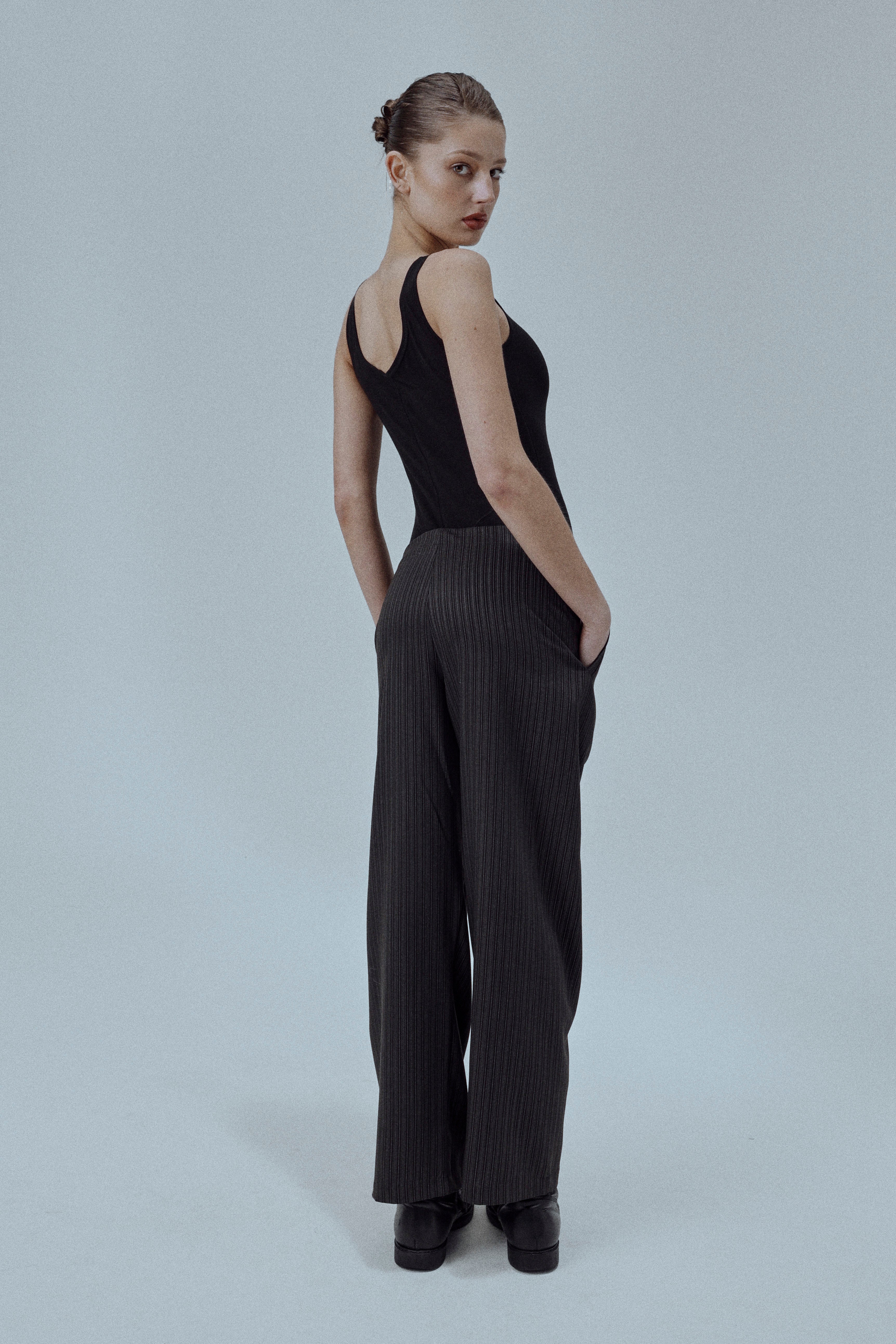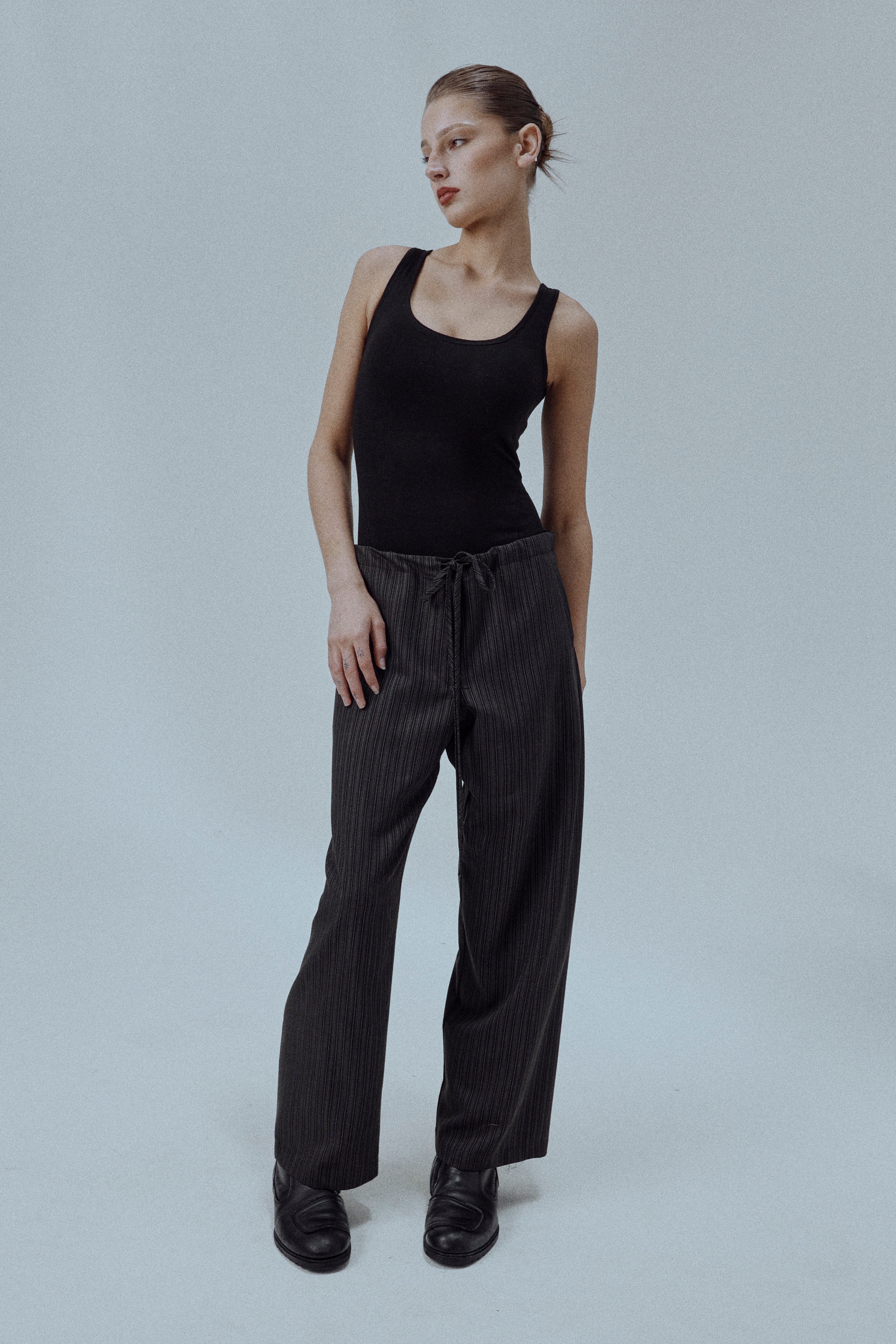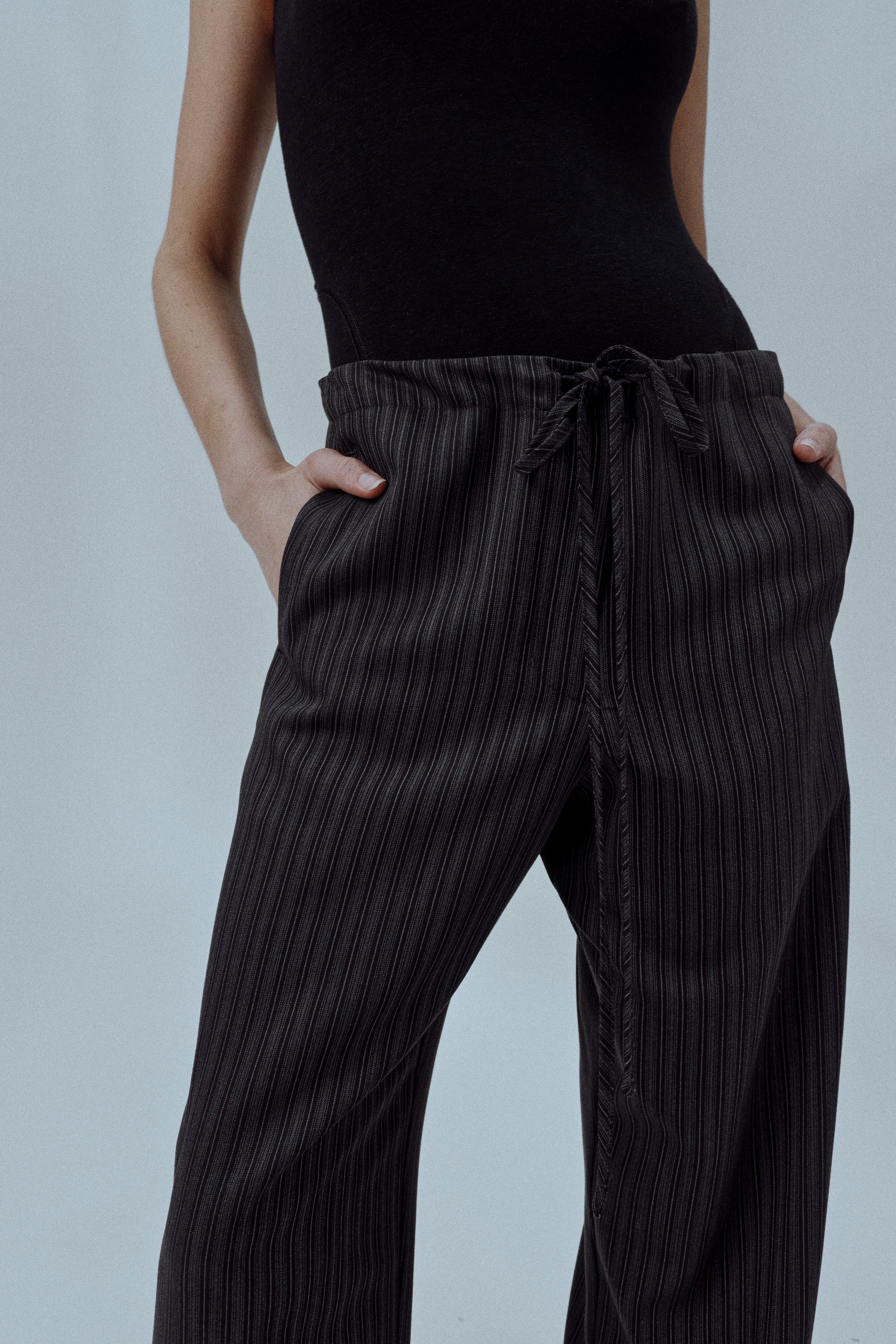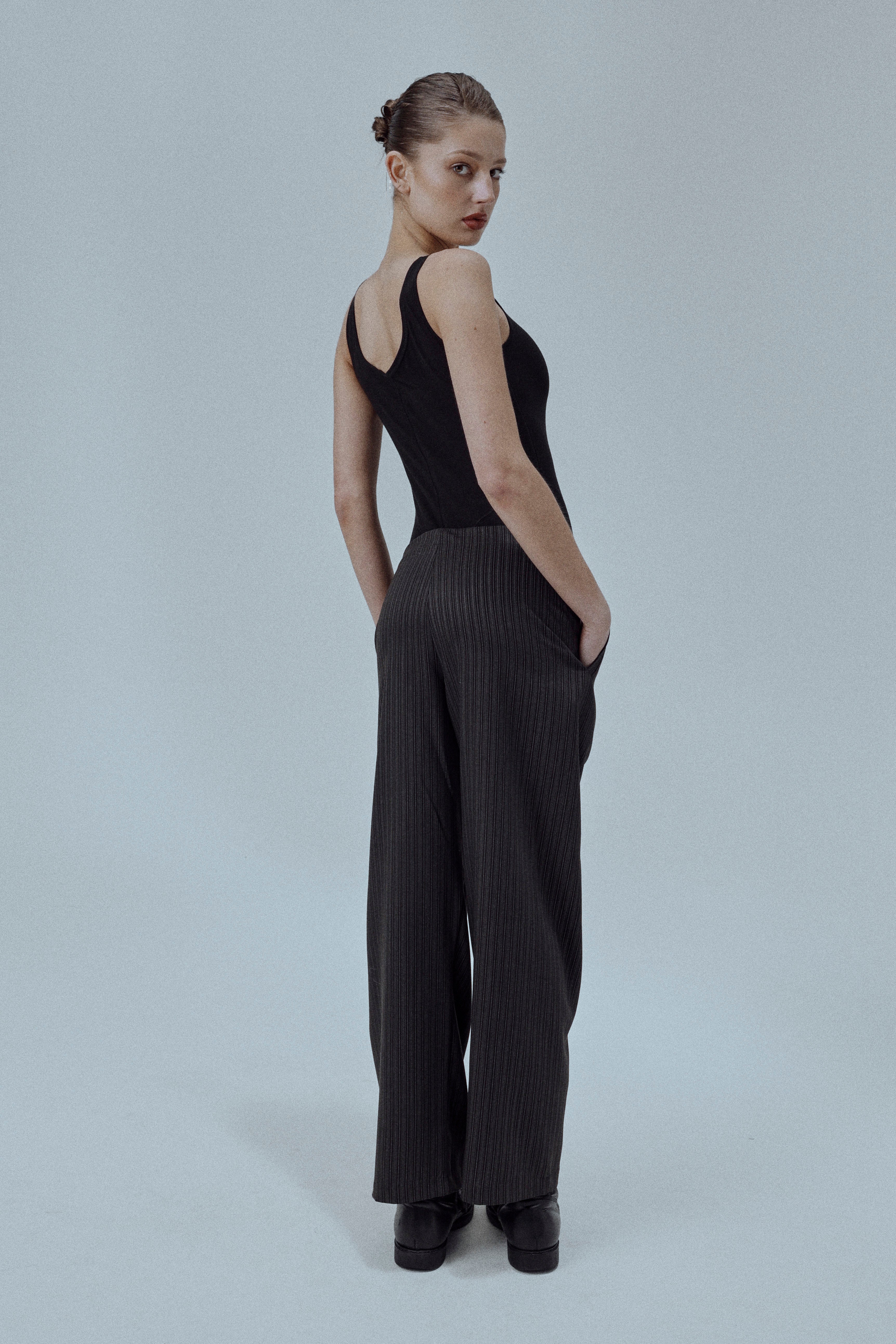 DESCRIPTION
Deep chocolate everyday pants with a pronounced, light grey pinstripe. This KD staple style has a relaxed straight leg fit, with zip fly, two welt pockets and a self fabric drawstring.
This transeasonal piece works perfectly with boots or sandals, the midrise style pairs well with the KD Capped Long Sleeve, Cord Vest or your favourite basic tee for a casual look.

DETAILS
Relaxed fit with adjustable waist
Zip fly
Two welt pockets
Lightweight, 100% wool plain weave
Blind hem
Made and washed in Melbourne (Naarm)
Model is 5'11" and wears size S
Light weight, pinstripe plain weave

- Fabric: Pinstripe, plain weave
- Composition: 100% Wool
- Weight: Light
- Supplier: Davisha
- Origin: Italy

- Laundering: Dry clean
Relaxed fit with adjustable waist. This style has a low hanging crotch to allow you to wear high and low on the hips.

[ XS ]
Waist: 65cm
Hip: 92cm
Inner Leg: 75cm
[ S ]
Waist: 70cm
Hip: 97cm
Inner Leg: 75.5cm
[ M ]
Waist: 75cm
Hip: 102cm
Inner Leg: 76cm
[ L ]
Waist: 80cm
Hip: 107cm
Inner Leg: 76.5cm
[ XL ]
Waist: 85cm
Hip: 112cm
Inner Leg: 77cm
Please remember that our Earth is dying and the fashion industry is a major cause of this fact…

We have done everything in our ability to create high quality products that are considerate of people and the planet, but how you consume and use your product is integral to ensuring the impact of KRYSTAL DEANS' stays at a low.

Check out our conscious consumption checklist and read through the questions before making a purchase.

If you decide to make the commitment to being the new guardian of this piece, you will
then hold responsibility for ensuring you carry out the use stage of your garment with the most minimal impact possible. We strongly recommend (subtle demand) saying
bye, bye to harmful, chemical based detergents and investing in eco detergents. Also, we are all about holding back on washing your garment until it ABSOLUTELY needs a freshen up. Every time you wash your clothes it uses water and the fabric thins with every wash (just a tiny, little bit) so the more you wash the closer your garment is to being sent to its grave. Spot wash any accidental marks and when you MUST launder save the fishes and use low harm detergents. For dry cleanable products please seek out chemical free businesses, Melbourne based humans head to Laundry Box.